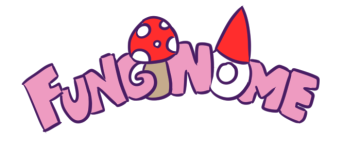 Funginome - Godot Wild Jam #33
Submission for the Godot Wild Jam #33.

How greedy a gnome like you can be?
Fungi are the most precious currency in gnome world.
You can use them to make magic and, for instance, turn anything into more mushrooms! Alive animals? You don't even care about nature as long as you get more fungi!
This type of currency is the so-called "fungible tokens".
Now you're using a magic portal direct to the Fungus Dimension, the place with more mushrooms and, for some reason, bunnies in all existence.
You have a very limited amount of time before the portal closes back and you won't be able to return without the magic power of at least 50 mushrooms.
Be careful!
Those huge bunnies (in gnome standards) could make you lose mushrooms anytime they bump into you!
CONTROLS:
Space - Use Magic
X / Q - Use escape portal or trade circle
Arrows / WASD - Move
Escape - Menu
Download
Click download now to get access to the following files:
Funginome - Windows.zip
13 MB
Funginome - Linux.zip
13 MB
Funginome - Mac.zip
26 MB
Funginome - Source.zip
1 MB